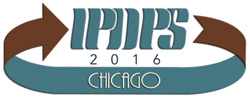 In conjunction with the IEEE International Parallel and Distributed Processing Symposium

HiCOMB 2016 Call For Papers
Submission deadline extended till January 4, 2016!
High-performance computing is an integral part of research and development in bioinformatics/computational biology and medical and health informatics. The large size and complexity of biological data sets, and inherent complexity of the underlying biological problems have collectively resulted in large run-time and memory requirements. The goal of this workshop is to provide a forum for discussion of latest research in developing high-performance computing solutions to data- and compute-intensive problems arising from all areas of computational life sciences. We are especially interested in parallel and distributed algorithms, memory-efficient algorithms, large scale data mining techniques, including approaches for big data and cloud computing, algorithms on multicores, manycores and GPUs, and design of high-performance software and hardware for biological applications.

The workshop will feature contributed papers as well as invited talks from reputed researchers in the field.

Topics of interest include but are not limited to:
Bioinformatic databases
Computational genomics and metagenomics
Computational proteomics and metaproteomics
DNA assembly, clustering, and mapping
Gene expression analysis with RNASeq and microarrays
Gene identification and annotation
Parallel algorithms for biological sequence analysis
Parallel architectures for biological applications
Molecular evolution and phylogenetic reconstruction algorithms
Protein structure prediction and modeling
Parallel algorithms in chemical genetics and chemical informatics
High performance algorithms for systems biology
Big data solutions for systems biology
Cloud-enabled solutions for computational biology
Energy-aware high performance biological applications
This year, the HiCOMB workshop will also host multiple sessions specifically dedicated to parallel sequence analysis libraries. These sessions will be held primarily on Friday, May 27, and are continuation of the pSALSA workshop. The sessions will feature relevant contributed submissions from HiCOMB, multiple invited talks, and discussion. Consequently, we also seek paper submissions that focus on parallel Next-Generation Sequencing (NGS) bioinformatics.
Submission guidelines
Papers reporting on original research (both theoretical and experimental) in all areas of bioinformatics and computational biology are sought. Surveys of important recent results and directions are also welcome. Submission site is available on EDAS system. Submitted manuscripts may not exceed ten (10) single-spaced double-column pages using 10-point size font on 8.5x11 inch pages (IEEE conference style), including figures, tables, and references (see IPDPS Call for Papers for more details). All papers will be peer-reviewed by the technical program committee of the workshop. Accepted manuscripts will be considered for publication either at the HiCOMB main track or the pSALSA special track. The complete symposium and workshop proceedings will be distributed at the conference and will be submitted for inclusion in the IEEE Xplore Digital Library after the conference.
Important Dates
| | |
| --- | --- |
| Workshop papers due: | January 4, 2016 December 18, 2015 |
| Authors notification: | February 1, 2016 |
| Camera-ready papers due: | February 28, 2016 |
---
Workshop Co-Chairs
Srinivas Aluru
College of Computing
Georgia Institute of Technology
Atlanta, GA 30332, USA
Email:
David A. Bader
College of Computing
Georgia Institute of Technology
Atlanta, GA 30332, USA
Email:
Program Chairs
Ananth Kalyanaraman
School of Electrical Engineering and Computer Science
Washington State University
Pullman, WA 99164-2752, USA
Email:
Jaroslaw Zola
Department of Computer Science and Engineering
Department of Biomedical Informatics
University at Buffalo, SUNY
Buffalo, NY 14260-2500, USA
Email:
Program Committee
Yuri Alexeev, Argonne National Lab
Aydin Buluc, Lawrence Berkeley National Lab
Robert Cottingham, Oak Ridge National Lab
Ananth Grama, Purdue University
Marta Kasprzak, Poznan University of Technology, Poland
Patricia Kovatch, Mount Sinai Hospital
Ben Langmead, Johns Hopkins University
Kamesh Madduri, Penn State
Alba Cristina Magalhaes Alves de Melo, University of Brasilia, Brasil
Alex Pothen, Purdue University
Bertil Schmidt, Johannes Gutenberg University Mainz, Germany
Shannon Steinfadt, Los Alamos National Lab
Michela Taufer, University of Delaware
Sharma Thankachan, Georgia Tech
---
HiCOMB Archive
---