HiCOMB 2004
Third IEEE International Workshop on High Performance Computational Biology
Monday, April 26, 2004
Eldorado Hotel, Santa Fe, NM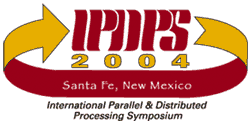 (Held in conjunction with the International Parallel and Distributed Processing Symposium)
---
---
HiCOMB 2004 Keynote Talk
Three-Dimensional Reconstruction of Viruses: Challenges and Strategies
Timothy S. Baker
Purdue University

Viruses are cellular parasites. A deeper understanding of many aspects of viral life cycles has emerged from coordinated molecular and structural studies carried out with a wide range of viral pathogens. Structural studies of viruses by means of transmission electron cryo-microscopy (cryo-EM), 3D image reconstruction, and pseudo-atomic modeling methods have grown explosively in the last decade. These methods have been successfully employed in the investigation of a wide range of icosahedral viruses, ranging in size from as small as 30nm to larger than 200nm. The talk will review the current technologies involved in obtaining 3D structural information on viruses and briefly highlight some recent results at better than 10 Å resolution on both enveloped and non-enveloped icosahedral viruses. Numerous technological obstacles stand in the path of obtaining near atomic resolution (0.4 nm or better) structural data on symmetric as well as non-symmetric viruses. Particular emphasis will be devoted to describing the development of new computational tools designed to provide high throughput data analysis at high resolution.
---
Papers to be presented at HiCOMB 2004:
Study of a Highly Accurate and Fast-Protein Ligand Docking Algorithm Based Upon Molecular Dynamics
M. Taufer, M. Crowley, D. Price, A.A. Chien, and C. L. Brooks III
Parallel Protein Folding with STAPL
S. Thomas and N. Amato
A Hypergraph Model for the Yeast Protein Complex Network
E. Ramadan, A. Tarafdar, and A. Pothen
Dynamic Programming for LR-PCR Segmentation of Bacterium Genomes
R. Andonov, D. Lavenier, N. Yanev, and P. Veber
Parallel RNA Sequence-Structure Alignment
T. Liu and B. Schmidt
Constrained De Novo Peptide Identification via Multiobjective Optimization
J.M. Mallard, A. Heredia-Langner, D.J. Baxter, K.H. Jarman, and W. R. Cannon
Identification of Mycobacteriun Species Using Curated Custom Databases
D. Kuyper, H. Ali, A.M. Mohamed, and S.H. Hinrichs
High Performance Computational Tools for Motif Discovery
N.E. Baldwin, R.L. Collins, M. A. Langston, M.R. Leuze, C.T. Symons, and B. H. Voy
High Performance Biosequence Database Scanning on Reconfigurable Platforms
T. Oliver and B. Schmidt
New Fast and Acurate Heuristics for Inference of Large Phylogenic Trees
A.P. Stamatakis, T. Ludwig, and H. Meier
Large-Scale Simulation of Eukaryotic Cell Signaling Processes
J.H. Miller and F. Zheng
Particle Swarm Optimization and Neural Network Application for QSAR
Z. Wang, G.L. Durst, R.C. Eberhart, D.B. Boyd, and Z. Ben Miled
---
HiCOMB 2004 Call For Papers
Computational Biology is fast emerging as an important discipline for academic research and industrial application. The large size of biological data sets, inherent complexity of biological problems and the ability to deal with error-prone data all result in large run-time and memory requirements. The goal of this workshop is to provide a forum for discussion of latest research in developing high-performance computing solutions to problems arising from molecular biology. We are especially interested in parallel algorithms, memory- efficient algorithms, large scale data mining techniques, and design of high-performance software. The workshop will feature contributed papers as well as invited talks from reputed researchers in the field.
Topics of interest include but are not limited to:

Bioinformatic databases
Computational genomics
Computational proteomics
DNA assembly, clustering, and mapping
Gene expression and microarrays
Gene identification and annotation
Parallel algorithms for biological analysis
Parallel architectures for biological applications
Molecular evolution
Molecular sequence analysis
Phylogeny reconstruction algorithms
Protein structure
String data structures and algorithms

Submission guidelines:
Papers reporting on original research (both theoretical and experimental) in all areas of bioinformatics and computational biology are sought. Surveys of important recent results and directions are also welcome. To submit a paper, send a postscript or PDF copy of the paper by email to the workshop's Program Chair, Prof. Dan C. Marinescu, <dcm@cs.ucf.edu>. The paper should not exceed 12 single-spaced pages (US Letter or A4 size) in 11pt font or larger. All papers will be reviewed. IEEE CS Press will publish the IPDPS symposium and workshop abstracts as a printed volume. The complete symposium and workshop proceedings will also be published by IEEE CS Press on CD-ROM and will also be available in the IEEE Digital Library.
Authors of selected papers from the workshop will be invited to submit extended versions of their papers for publication in the journal Concurrency and Computation: Practice and Experience.
Important Dates

| | |
| --- | --- |
| Workshop Paper Due: | December 1, 2003 |
| Author Notification: | December 31, 2003 |
| Camera-ready Paper Due: | January 23, 2004 |
---
Workshop Co-Chairs

David A. Bader
Electrical & Computer Engr. Dept.
University of New Mexico
Albuquerque, NM 87131 USA
Phone: +1.505.277.6724
Fax: +1.505.277.1439
Email: dbader@ece.unm.edu
Srinivas Aluru
Dept. of Electrical & Computer Engg. and
Lawrence H. Baker Center for Bioinformatics
& Biological Statistics
Iowa State University
3218 Coover Hall
Ames, IA 50011, USA
Phone: +1.515.294.3539
Fax: +1.515.294.8432
email: aluru@iastate.edu
Program Chair

Program Committee

For up-to-date information about this workshop, please visit http://www.hicomb.org/.

---
Call for Papers for HiCOMB 2004:
---
Previous meetings
---
Last updated: Sat Jan 10 08:06:01 MST 2004